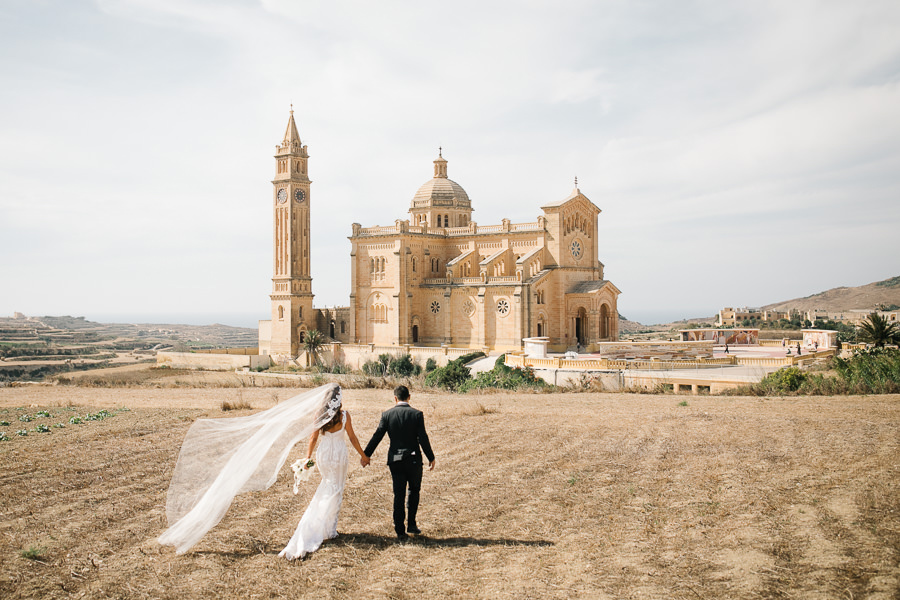 1, The Climate
Certainly the weather plays an important role. The Maltese Islands are perfectly located in the centre of the Mediterranean Sea, between Europe and Africa.  The weather in Malta and Gozo rarely gets very cold in winter and very warm in summer.  In winter, day temperature varies between 14 to 20 degrees Celsius and maybe goes down at night about 8 or 9 degrees Celsius a couple of times only.  In summer, temperatures range between 30 to 36 degrees Celsius.  But again, being in the centre of the Mediterranean Sea, the gentle sea breeze does cool down the heat during the day and night.  Fantastic!
2, The Views
Whether you are coastal walking around the valleys or the South high cliffs or else sea kayaking around beaches, caves and inlets, the views remain spectacular.  Two of my favourites are definitely the sunrise views on the Gozo channel and sunset on Xlendi and Dwejra bay.  Just magical! No wonder why couples decide to do their pre-wedding photography sessions here too.
3. Great heritage for wedding locations
Though a very small island, Gozo is surprisingly very rich in history and prehistory heritage. The Gozo Citadel and the world famous Ggantija Temples built over 5600 years ago are found here. That's not all. If you like art in all its forms, old and contemporary in various mediums and shapes, you'll find it certainly here.  Festivals, historical re-enactments, exhibitions, concerts, musicals, operas, ballet performance and numerous sports events fill the Gozo's cultural diary of events inside out. In a nutshell, there is always something going on here… Couples visiting Gozo for the first or more times are so impressed with the possibility to have a civil wedding in a such a unique prehistoric or historical site as a backdrop on their most important day of their lives.
4. Same-sex marriages
As a progressive Maltese island, Gozo celebrates love as an essential component to life, whatever form it takes, regardless of the age or sex of the couple. In September 2017, Malta enacted the law allowing same-sex marriages. Malta, also leads the way in Europe for gay rights and for LGBTIQ equality.
5. Food
Daily baked crispy bread and pastries from log ovens just round the corner, fresh Mediterranean fruits, vegetables and wild herbs just picked in the morning from the nearby valley terraced fields, daily fresh local milk products, quality red meat and certified poultry and certainly the unique fresh catch of the day – absolutely recommended! Couples falling in love with Gozo often wonder what it would be like to have such a rich gastronomy heritage on their wedding day!
Wedding Service Providers
Weddings in Gozo are made easy to plan and organise with very little hassle. All key service providers are available and very easy to contact to help you plan your wedding day. Wedding planners help with any required wedding documentation whether it is a civil or a religious wedding, photographers, caterers, florists, bakers, videographers, beauticians and hairstylists.
Local Hospitality
Luckily enough, Maltese people still have a strong sense of community.  This is most evident during the annual feast celebrations across Spring and Summer time. The majority of families still embrace the values of commitment, dedication and solidarity.  In fact, if there is one common element in all the guests' reviews at our Gozo boutique self-catering accommodation  certainly is how friendly the local people had been.  So, if you're visiting Gozo and plan to marry here, do not hesitate to ask. You have the added advantage that all locals speak English, but they'll even go the extra mile to help you prepare your Big day.
8. Amazing churches and chapels for religious weddings in Gozo
Did you know that in Gozo and Malta there are 365 churches? That is a church for every day in the year! Well, it is no surprise that especially Catholic couples from across the world fall in love with one particular church or basilica in the town where they stayed or discovered a little hidden chapel around the terraced fields… and decide to have their wedding mass service there. In a nutshell, the choice and variety of churches and chapels is truly amazing
9. Honeymoon on Gozo
It's incredible but true that some wedding stories on Gozo started from the idea of having only their honeymoon on Gozo island. It is therefore truly amazing that some couples during their pre-honeymoon visit, even decide to change their original plans and home country venues and decide to get both married and spend the honeymoon on Gozo!