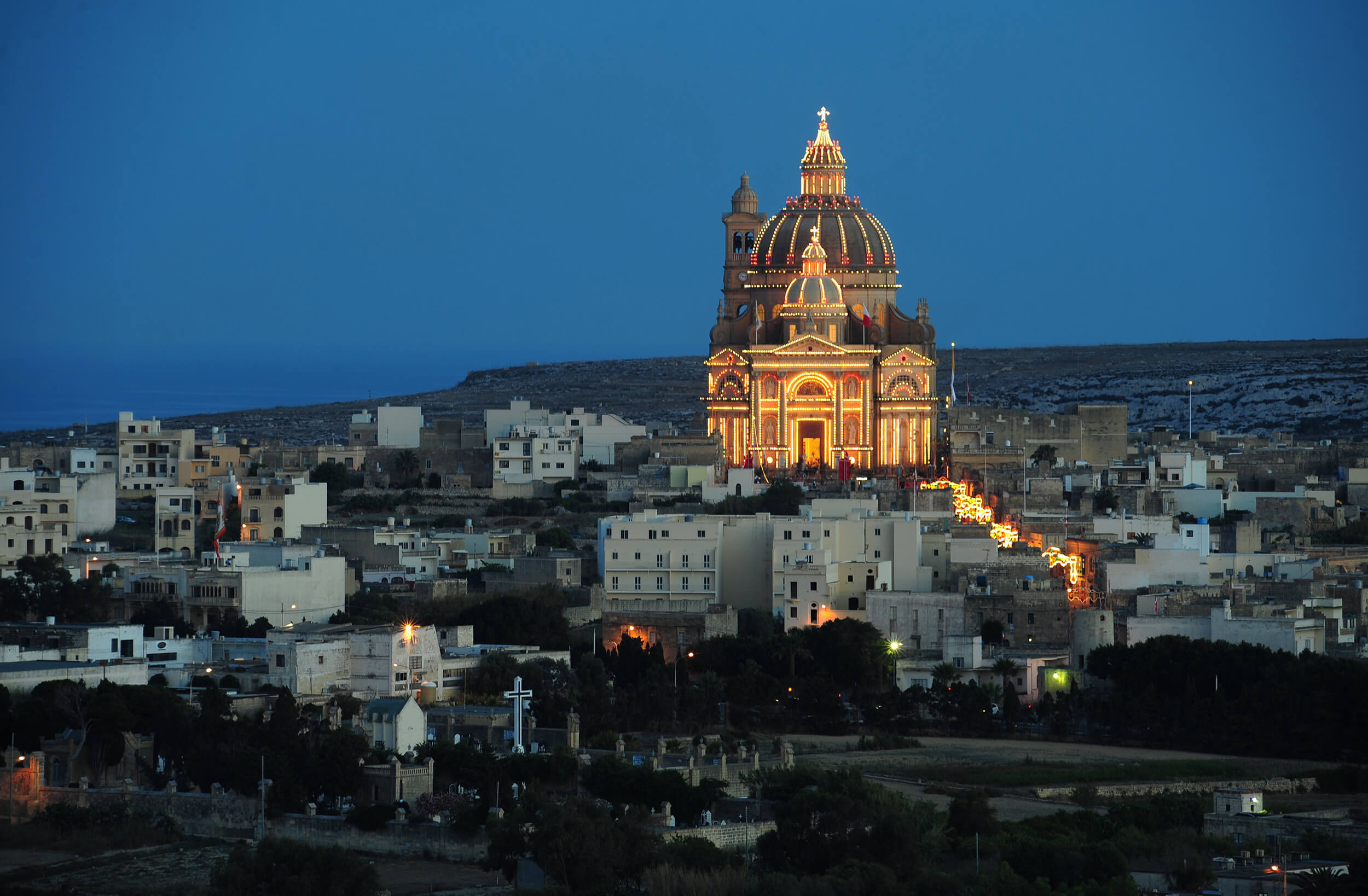 This is the biggest church in Gozo and boasts the third largest unsupported dome in the world.
The Xewkija rotunda, dedicated to St. John the Baptist is the largest church in Gozo. The colossal church is an exceedingly large circular structure in white local limestone, its elegant dome supported by eight columns representing the eight beatitudes.
Ix-Xewkija is one of the oldest villages of Gozo and took the status of a parish as early as 1678. Years later a parish church, dedicated to St. John the Baptist, was erected, and consecrated in 1755. After the 2nd World War, the parishioners – traditionally known for their building skills and craftsmanship in Maltese stone – expressed their wish to construct a new and majestic Parish Church. Architect Joseph D'Amato drew up the plans inspired by the famous Basilica of Santa Maria Della Salute in Venice.
The first stone was laid in 1951. The old church of St. John was left in place during the work and continued to function until the new building was completed. Many donations were offered, as well as free labour from skilled craftsmen. This enabled the enormous structure to rise higher year by year untilafter twenty years of hard work, the new church was ready.
The year 1978 was the 300th anniversary of the parish and the Bishop of Gozo performed the ceremony of consecration on what is now universally known as The Rotunda. As part of the celebrations, the large cross was placed on top of the huge dome.
The opulent circular interior is covered in frescoes, stained glass, and fine sculpture; the altar also carved from precious marble. The interior is decorated with fine sculptures and modern paintings. A set of paintings depicting scenes from the life of St. John the Baptist adorn the walls of its six side chapels. The floor is in polished Carrara marble and the main altar is also carved in precious marble.
The Rotunda of Ix-ix-Xewkija is a superb architectural masterpiece that reveals the exquisite texture and the versatility of local limestone and the skill of local craftsmen.
Just before the Rotunda was completed, the old church was carefully dismantled, and the best parts of it delicately rebuilt next to the new church. One can visit the remnants of the old church (now known as The Sculpture Museum) and discover the incredibly delicate lacework on some of the old Maltese stone.
From the Sculpture Museum, visitors can take a lift up to the Dome to enjoy spectacular views of the island of Gozo and as far afield as Malta.
Every 24th of June, the parish celebrates liturgical feast of the nativity of St. John the Baptist while the external festivities are celebrated on the nearest Sunday.