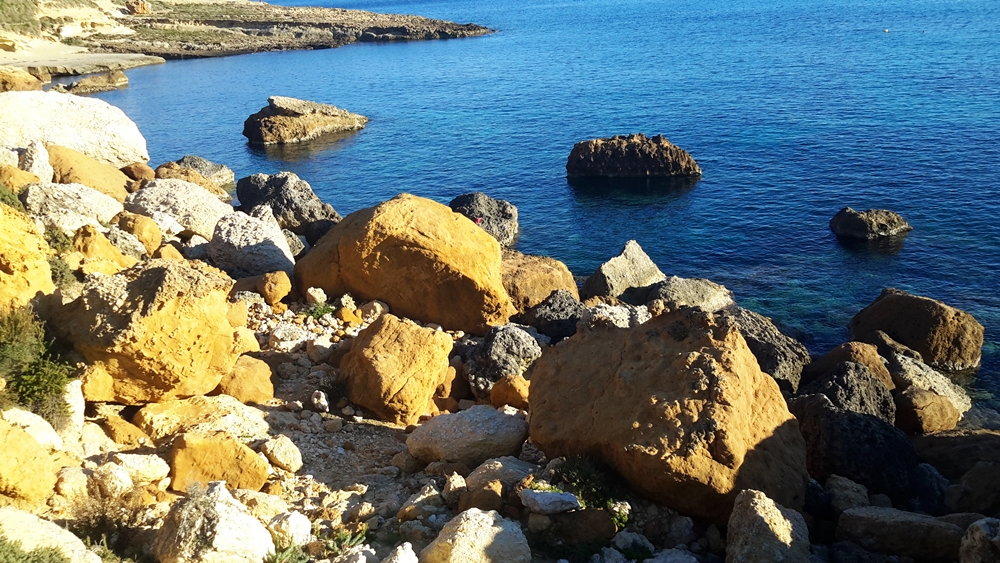 One of the most popular Gozo coastal walks is certainly to Hondoq bay via Mgarr fishing hamlet.
As soon as you leave the Mgarr Marina and the breakwater, you'll find Zewwieqa bay, a perfect spot for swimming and snorkeling.
The coastal walk actually starts from here.
There is a coastal path from Zewwieqa bay in the fields and on the rock area side between Mgarr and Hondoq bay. The coastal walk itself should not take more than one hour, of course depending if you do not stop very often to take pictures!
The coastal area is covered in very small shrubs, typically Mediterranean.  Being so exposed to the natural elements, plants and shrubs tend to grow very short, but certainly are very well rooted in the natural rock formations.
Would we get lost? No, definitely. It is an easy to medium level walk and the Gozo coastal trail is clear most of the way towards Hondoq beach. Very important to use the appropriate walking shoes, take enough water to drink and take care especially where the path is very close to the cliff edge.
Great view of the little rock formation jutting out from the rest of mainland Gozo.  One of our favourite spots for snorkeling!
While doing this coastal walk, you'll also find some farm land especially to your left side.  Please kindly respect all farming signs.
Getting closer to Hondoq bay, the environmental habitat changes even more. Less shrubs, less greenery and more wilderness with hard rock formations.
Certainly, you cannot miss the aromatic wild Mediterranean Thyme.  It grows only around the cliffs and this wilderness area near the coast on Gozo. It normally flowers in June.
Just about 300 metres from Hondoq bay, you'll see Ta' Bamberin cave, a little lovely secluded inlet beach.
and finally you arrive at one of the most beautiful and popular beaches on Gozo – Hondoq Bay!
Enjoy your walking holidays on Gozo!